Meet the Experts: Amanda Kilgore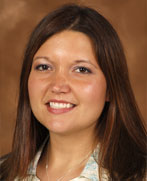 Amanda Kilgore has been employed by the Iowa Division of Criminal Investigation Crime Laboratory in the Drug Identification and Crime Scene Units since 2006. Ms. Kilgore began her career as a forensic chemist at the DEA Special Testing and Research Laboratory in Dulles, Virginia, where she worked in the Heroin Signature Program from 2005-2006, before relocating to her home state of Iowa to join the DCI. Ms. Kilgore has specialized in drug analysis for a total of 9 years. In addition, as a crime scene analyst she has traveled across the state of Iowa working major homicide and suspicious death scenes since 2007.
Ms. Kilgore received a bachelor of science degree in chemistry and a bachelor of science degree in forensic science from the University of New Haven in 2004. She is a member of the Midwestern Association of Forensic Scientists and a Fellow of the American Academy of Forensic Sciences.