Meet the Experts: Matt Schwarz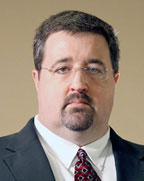 President and CEO Matthew Schwarz founded Schwarz Forensic Enterprises to deliver the highest quality forensic services to clients. A certified latent print examiner with extensive background in law enforcement, Mr. Schwarz is the creator of the Schwarz Executive Biometric Identification System. The Biometric Identification System is an original innovation designed to deal with the worst case scenario facing organizations and families today: the loss of personnel from terrorism, natural disaster, transportation mishaps, industrial accidents, and kidnapping. SFE serves clients such as corporations, law firms, the insurance industry, and governmental agencies.

Mr. Schwarz is a member of the newly created NIST Organization of Scientific Area Committees – Subcommittee on Friction Ridge. This subcommittee will focus on standards and guidelines related to forensic examination of friction ridge. Prior to this appointment Mr. Schwarz was a member of the Scientific Working Group on Friction Ridge Analysis, Study and Technology. This technical group is tasked with development of standards and guidelines for friction ridge forensic analysis. Mr. Schwarz also serves on the latent print certification board for the International Association for Identification. This board oversees the certification process to become a Certified Latent Print Examiner. This certification, which Mr. Schwarz holds, is an internationally recognized credential showing the examiner's ability to reliably identify latent friction skin prints. There are only approximately 900 individuals who hold this certification in the world.

Mr. Schwarz has provided consultation services for organizations, governmental bodies, and law firms throughout the United States. Mr. Schwarz has worked as an examiner, team leader, and project manager for numerous local, state, and federal law enforcement agencies. Mr. Schwarz served as a detective with the Muscatine, Iowa police department where he investigated a variety of serious criminal offenses including murder, sexual assaults, gang crimes, narcotics trafficking, and fraud. He also served as identification bureau manager with the Davenport, Iowa police department where he supervised the crime scene unit, the property and evidence division, the crime laboratory and police department and identification record units. He has a total of sixteen years of law enforcement experience. Mr. Schwarz has testified as an expert witness in state and federal court regarding crime scene processing, photography, and latent print identification.